Listen on Spotify
Produced albums & singles:
01
-

11

-

2019
STAKE – Critical Method (★★★★): Hard gebakken en pittig gekruid
Nice four star review in "Dansende Beren":
"Critical Method heeft er zonder twijfel voor gezorgd dat STAKE nieuwe creatieve hoogtes bereikt. Ruw, hard en fris, maar tegelijk ook een beetje nostalgisch: dat somt Critical Method perfect op. Deze plaat brult zo in your face dat je toch even moet bekomen nadat je 'm hebt beluisterd. Eén ding is zeker: de geboorte van STAKE was een briljant idee."
01
-

11

-

2019
STAKE beukt je omver met 'Critical method'. Indiestyle.be
"Als we na dit debuut één ding kunnen concluderen, dan is het wel dat we het gevoel hebben dat de mannen na vijftien jaar hun tweede adem hebben gevonden. Het feit dat ze een contract kregen bij het gerenommeerde Britse Hassle Records bewijst dat er ook in STAKE heel wat potentieel zit."
19
-

09

-

2019
Margela In His Own Words: MARTIN MARGIELA FILM TO TELL THE STORY OF ENIGMATIC BELGIAN FASHION DESIGNER (EXCLUSIVE) - 'VARIETY'
Produced, Recorded and Mixed by me:
MARTIN MARGIELA FILM TO TELL THE STORY OF ENIGMATIC BELGIAN FASHION DESIGNER (EXCLUSIVE) - 'VARIETY'
A look at Martin Margiela, the fashion world's answer to Banksy, an elusive and enigmatic designer whose revolutionary creations changed the face of fashion while remaining completely anonymous.
19
-

09

-

2019
STAKE Album "Critical Method" Announced, produced by me.
STAKE announce album 'Critical Method' out 1st November 2019 via Hassle Records. Belgium's STAKE, have announced their new album 'Critical Method' to be released on the 1st November via Hassle Records. Their music is loud, hard, and uncompromising.
22
-

11

-

2017
"THE OSTRICH - NEW AG INSURANCE AD By Bert Ostyn /Stephane Misseghers
Hello!
Check out the music we made for the brand new AG INSURANCE AD.
Thank you FAMOUS GREY for this smoothe collaboration!!
30
-

10

-

2017
NEW MUSIC FOR THE AG INSURANCE "BEARS' ADVERTISING FILM!! (Famous Grey)
Hi everyone,
Check out the first of many Stephane Misseghers/Bert Ostyn-collaborations for the AG Insurance film "The Bears"!
Big thanks to FAMOUS GREY AGENCY.
More to come...
30
-

10

-

2017
RHEINZAND live video!
Hi y'all,
Check out this brand new live video from RHEINZAND recorded at Number Nine Studios!!!
04
-

08

-

2017
ABSYNTHE MINDED RELEASE 'SURRENDER', A BRAND NEW TRACK FROM THEIR FORTHCOMING ALBUM 'JUNGLEYES'!!
Hi everyone,
Today Absynthe Minded have released a bonus track from their forthcoming album Jungleyes. 
Click the link below and listen to it NOW!!!
https://smebe.lnk.to/Surrender
Hope you like,
see you soon,
Steph.
01
-

06

-

2017
New Absynthe Minded Single "The Execution" OUT NOW!!
Hi everyone,
Quick update:
Last Friday Absynthe Minded released "The execution", the first single from their upcoming album "Jungle Eyes" produced by yours truely. Very proud to learn that it already made it to VOX TIP on Radio 1 and high rotation on Studio Brussel!!!
***** En toen was er plots nieuw werk van Absynthe Minded. Goed nieuws is dat zeker aangezien dit echt wel weer een straf plaatje geworden is.
***** De Belgische comeback van het jaar- Studio Brussel.
Album release: October 6th 2017.
Check out the "The Execution"-video directed by Wim Reygaert below!
See you soon,
Steph.
18
-

03

-

2017
Absynthe Minded anounces new album while rehearsing for upcoming shows:
 In Febuary of last year frontman Bert Ostyn announced that the band would freeze all activities until further notice.
'Everybody was tired', said Ostyn. But now, after his solo project, Ostyn appears ready to give it another 'full force ahead'. From the original line-up only Ostyn himself and bassplayer Sergej Van Bouwel remain in the current constellation, but they are joined by Wouter Vlaeminck (keyboards), Simon Segers (drums) and Toon Vlerick (guitar). 
The release of the forthcoming album 'JUNGLEEYES', produced by dEUS-drummer Stéphane Misseghers, is planned for the second half of 2017. 
St. Grandson first appeared on scene as singer-songwriter in February 2015 with the gripping debut single 'Midnight Swim' after becoming one of the winners of Studio Brussel's De Nieuwe Lichting.  
2016 proved to be just as fruitful: Benjamin Decloedt (St. Grandson himself) signed with Universal Music Belgium, released a new single ('All Around Us') and started recording his debut album.
'You Will Find' (released end October 2016) entered the playlist of Studio Brussel as 'Hotshot' (the most played song of the week) and climbed up to a top 10 position in "De Afrekening" (StuBru's charts). A comparable story followed on Radio 1: the song entered in high rotation and in the charts (Vox) a few weeks later. The song is a riveting indie anthem in St. Grandson's trademark style: full of warmth, depth and catchiness. 
The band already performed at the Northside Festival in New York (2015), Pukkelpop (BE; 2015), AB (BE; 2015), Botanique (BE; 2016) and Paradiso, Tivoli and Oosterpoort (NL).
St. Grandson's debut album will appear in March 2017 and will be presented at AB Club on March 15th. Stéphane Misseghers (dEUS) took on producing duties while Reinhard Vanbergen (Das Pop) handled the mix.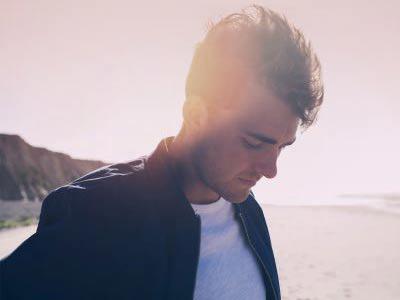 dEUS
Documentary: Confessions To dEUS
2021
Documentary: Margiela In His Own Words
2019
Scorpio Twins
Facciamo l'Amore (Scorpio Twins Remix)
2022
Kills And Kisses (Scorpio Twins Remix)
2022
Porque (Scorpio Twins Remix)
2020
Corto Maltese
Secrets in Venice (GAME)
2015
Psycho44
Suburban Guide to Springtide
2013
Check out their site
Resident Producer at:
Watch the videos
Music for advertising: